DOB: June 29, 2002          Height:  19. 73 "         Weight:  43 lbs.          Hips:  OFA- Good       eyes cleared yearly




McKays Revin' It Up O'Marquis

AM CH McKays

Boot Scootn' Boogie  CD,TDI,CGC ROM 1

Rocking Ks Elusive Shadow

ASCA/AKC CH

Marquis Hot Gem for Rocking K

CH Poppy Hills Star Chaser

CH Duran Duran of Starcross

Meshlacon's Here's A Hot Tip

CH Las Rocosa Little Wolf

CH Christmas Wishes of Windermere  CD

Wilmeths Maggie of Sagewood

CH Rocking Ks War Dancers Princess

Noteworthy Love A Rainy Nite

" Rainy"

CH. Briarbrook's Blues Brother

CH. Moonlighter of Primrose

  Brookridge Bayshore Hotcakes

CH. Fieldmaster's Blue Isle Barnstormer

CH. Crazy Hearts Swingtime

This site created by Barbara Rae Wilson for your enjoyment on October 15, 2001. If you experience any difficulties with any of the links, please contact me. 
  Thank you!

Briarbrook's Now You Can Look  "Lucy"

CH Del Rae's Senna of Sunsong

CD, PT, NA, NAJ, CGC, TDI, JHD

"Baron"

Little Wonder's Trixie LaRue

Siena's Teddy Bear of Riveroaks

Moores Gun Master of Sunsong

Porter's Roller Coaster Joey

Del Rae's One Hot Cowboy

"Sam"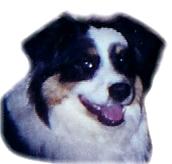 Betty with her pups summer 2005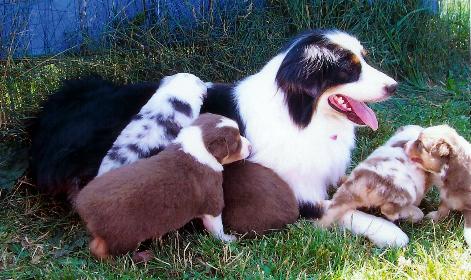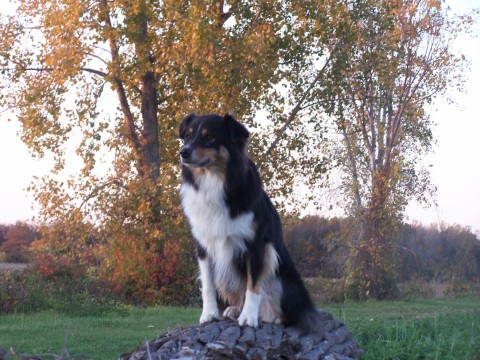 "Jazz" a Betty x Baron daughter titled in AKC - CD, RAE, MX, MXJ, XF.

ASCA - CD and agility legs, and in APDT even more.  Thank you Kelly Warner for doing such a wonderful job with her and all your dogs!

see more pictures below!!

Betty is following in her mother's foot steps as each litter has produced talented offspring. !!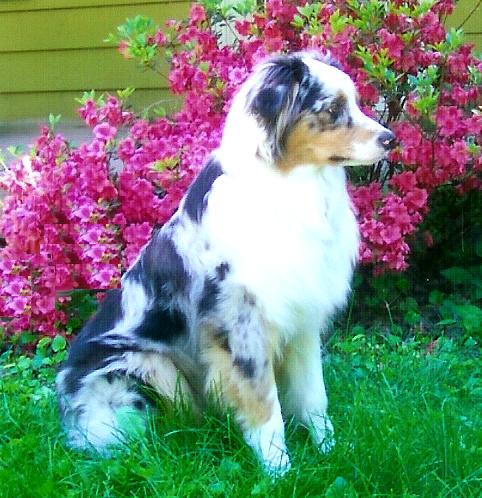 "Mills" who can be seen on page 40 in the Indianapolis Pet Quarterly Summer 2007 for Breed Profile of the Australian Shepherd.

You can visit Jess and Mills at Puppy Playground

5266 E. 65th ST

Indpls, IN 46220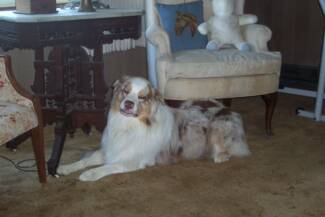 Below is Brutus, a Betty x Swayz son. Brutus is OFA -Good and eyes clear. He has just started showing.

Betty produced wonderful puppies for me and after she was retired as a Mother I thought it would be best for her to have a forever home where she could get more attention. And attention she did get! She had a wonderful home with one of her sons from her first litter and went on trips and got to see far more of the world than she would have ever had the chance to see here on the farm. However her life was cut short while at  a "Doggie Day Care" she was left unattended and she got out of an exercise yard. Several flyers and volunteers looked for her but some idiot with a four wheeler decided to chase her and the odds were not in her favor.She was found a few days later near the turnpike miles from where she had started.

Now I ache for the last few days of her life, scared and not knowing where to go....and her new family ache as well. If you ever adopt an Aussie, remember that the breed standard states they are "reserve" and that is not the same as fearful, but an Aussie is not suppose to "love" everyone. They are suppose to be leery of strangers so when your friends that have other breeds think they need to step in and "fix" something that is a breed trait....call the breeder. Some Aussies are more out going and they could all be in the same litter....but I personally do not breed for a Golden's temperament. Betty was perfect just the way she was and I will remember her fondly as I an reminded of her in her offspring.