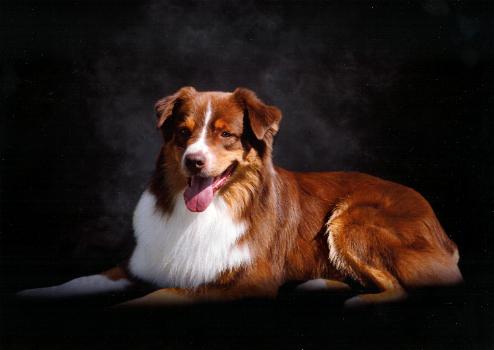 Tribute to "Baron"

1997- 2009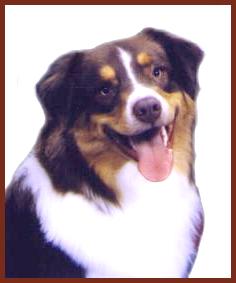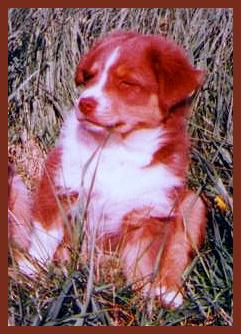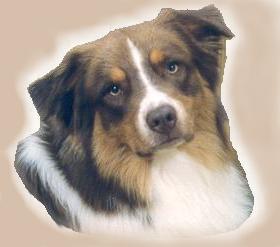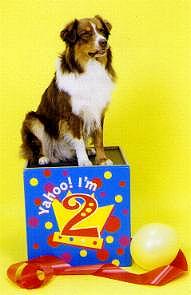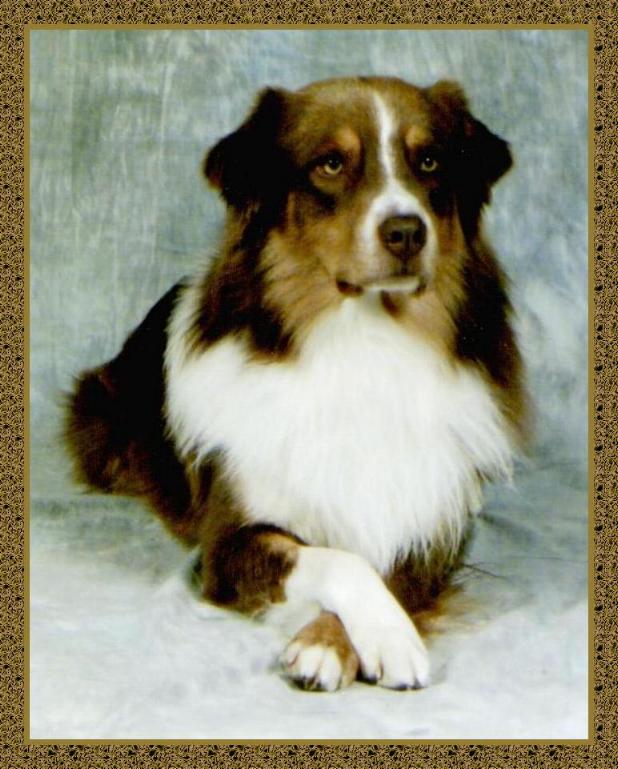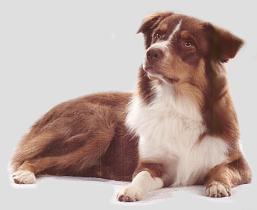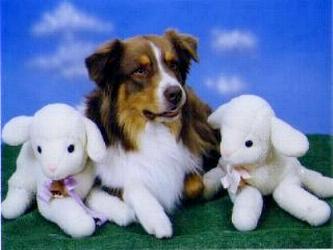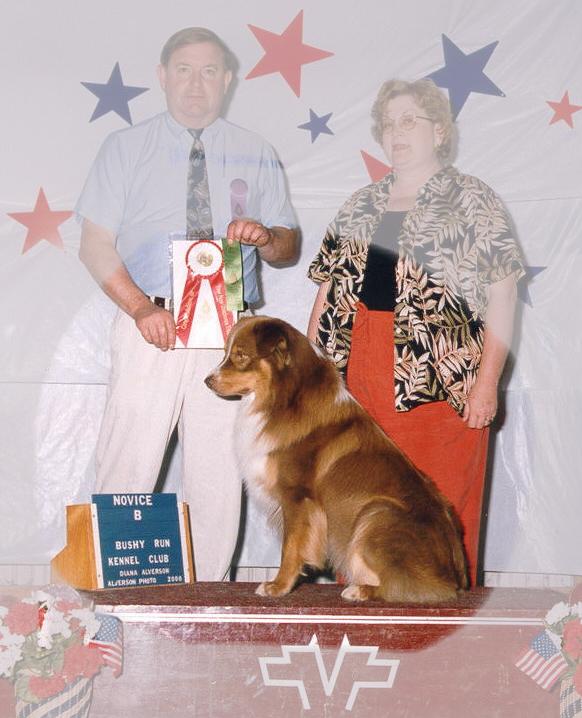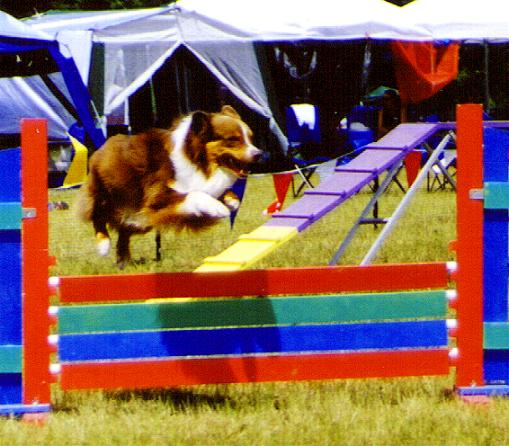 NOTE: Pictures are the property of Del Rae Kennel and can not be reproduced without written permission from kennel owner.

Baron at the 2004 USASA Nationals at 7 years old look at the face and the height he cleared this jump! Yes, it was a Clean Run!

Oh Barb, I cannot tell you how sorry I am for your loss of that  amazing and wonderful dog. He was my favorite red dog of all time, and  I know from hearing you talk about him that he was your heart dog. May your happy memories of Baron bring you comfort in your grief.

Kathy

www.opari-aussies.com

Barb,

So sorry to hear about Baron ... what a good boy he was, and what a good life he had ... albeit too short.   But we always think that their lives are "too short" don't we?    we want to keep them with us forever ... we all know that's not possible, but it doesn't do much to lessen our pain when we lose them, does it?    What's the other choice, though?   not to ever have any of our beloved pets in our lives?  hmmmm ... don't think there are many of us who would agree that that is a better alternative ... maybe some day we'll find a less painful way to deal with their loss ... in the meantime, at least we all have our friends who know and understand, and who grieve with us.

Take care,

Shawnee & Jeff

Barb, we are so very sorry to hear about Baron... what a terrible shock. He was such a special guy. I was just looking at his handsome face last week when we were packing shirts for ASCA nationals and thinking about how even in an illustration, you could see the sweetness and intelligence in his eyes.

Hugs from both of us and you will be in our thoughts and prayers, as will Baron.

Dawn & Steve

Oh Barbara,

I am so sad about your loss of Baron but do not blame yourself for going to sleep.  He knew you were there with him in spirit and in the house--not at a Vet hospital.  He probably waited for you to go to sleep before he left for the Bridge, thinking that you would not be upset.  You had 12 great years with him and you will have your memories of him.  I know how hard it is and how sad you are but he will be at the Bridge, happy and young again, waiting for you.

My sympathies,

jan

Barb, I am so sorry to hear about Baron.  My heart goes out to you.

I know you loved and cherished him very much.  I know right now you are hurting and there is a great emptiness in your heart.  As you know, it will heal in time.  He was very special to you and you will always have the good times and good memories of him.  I know I will have to face Thunder's death one day as he holds that special place in my heart like Baron did for you.  So just remember the wonderful years with him and all that he taught you.

Hang in there.

Jan

Below are text from friends of ours and their kind words really mean so much to me and to Baron....he touched a lot of people's lives in so many ways.......

below you find some wonderful poems that were sent to me also.

Barbara, I'm so sorry to hear about Baron.  I know that each day I count my blessings when I know that Bandit is still alive.  He has lived longer than expect and I hate to think of the day that he goes.  He, like Baron is what we want in all our dogs.  Loving, kind and our best friends.  The only thing that I know is that I have others that are here as I could not stand it if he was the only dog that I had.  It does help to get through the days to come. 

Each time I lose one of our animals it takes a piece of my heart with him.  So I know what you are going through and hope that the memories that you had of Baron will help, then looking at his kids brings on a great wealth of happiness.

Your friend

Karen

My Gift to Jesus

                I wish someone had given little Jesus a dog

                       as loyal and loving as mine

               to sleep by His manger and gaze in His eyes

                     and adore Him for being devine.

            As our Lord grew to manhood, His own faithful dog

                 would have followed Him through the day

         while He preached to the crowds and made the sick well

                    and knelt in the Garden to pray.

               It is sad to remember that Christ went away

                      to face death alone and apart

                   with no tender dog following behind

                     to comfort its Master's heart.

                  And when Jesus rose that Easter morn,

                      how happy He would have been

           as His dog kissed His hand and barked it's delight

                    for the One who died for all men!

           Well, the Lord has a dog now: I just sent Him mine,

                       the old pal so dear to me,

          And I smile through my tears on this first day alone,

                       knowing they're in eternity

                            By Jane L. Sears

The Spirit of an Aussie

       I was standing on a hillside, in a field of blowing wheat,

            And the spirit of an Aussie was lying at my feet.

  He looked at me with kind dark eyes, an ancient wisdom shining through,

         And in the essence of his being, I saw love there too.

      His mind did lock upon my heart as I stood there on that day,

         And he told me of this story about a place so far away.

         I stood upon the hillside in a field of blowing wheat,

         And in a twinkling of a second his spirit left my feet.

       His tale did put my heart at ease, my fears did fade away.

           About what lay ahead of me on another distant day.

     "I live among God's creatures now in the heavens of your mind,

        So do not grieve for me, my friend, as I am with my kind.

         My collar is a rainbow's hue, my leash a shooting star.

       My boundaries are the Milky Way where I sparkle from afar.

        There are no pens or kennels here, for I am not confined.

          But free to roam God's heavens among my Aussie kind.

       I nap the day on a snowy cloud, gentle breezes rocking me.

        And dream the dreams of earthlings and how it used to be.

       The trees are full of liver treats and tennis balls abound,

        And Milkbones line the walkways just waiting to be found.

       There even is a ring set up, the grass all lush and green.

        And everyone who gaits around becomes the Best of Breed.

    For we're all winners in this place, we have no faults, you see.

         And God passes out those ribbons to each one, even me.

    I drink from waters laced with gold, my world a beauty to behold.

      And wise old dogs do form my pride to amble at my very side.

      At night I sleep in an angel's arms, her wings protecting me.

        And moonbeams dance about us, as stardust falls on thee.

   So when your life on earth is spent and you stand at Heaven's gate,

         Have no fear of loneliness, for here, you know I wait.

                            ~author unknown~

Barb--I was just thinking about Baron.I had the feeling that there was something serious going on--maybe hemagiosarcoma. Sounds very similar to what happened to Dolly. I know how special Baron was to you and how you must be grieving. I'm know you can take comfort in the wonderful life he had with you, and in the great offspring he produced.

Janet Klapac

Barbara,

We are so sorry to hear of  the loss of your companion and friend. Baron was truly a great dog. We can only imagine the magnitude of your heartbreak and sadness at this time.

Hugs and tears,

Robin, Gary, Erin, & Rocky

Oh Barb

As I read this , my shock and hurt went out to you.  The tear are flowing down my face or I would call.  But right now you need friends with strength.  This hit close to home for me.  I am here for you and if you need me to come and help or just be there, give me a call and I will come. 

Your hurt right now is unbearable, but the memories of him will help you get through this.  

We all know this day will come,  but when it does we are never prepared. 

We all loved him and were happy and jealous of you owning him.  He was truly a perfect Aussie.

My prayers and thoughts are with you.

Oh Barb,

What can I say? I am sitting here in tears.  That is why I am writting instead of calling.  I don't think I woud be of much help to you right now except to cry with you.  Barron was so special and truely dedicated to your every move.  He was kind and respectful and faithful.  His companionship was the best.  His offspring carry those traits and his legacy will live on for a long time.  I know you have lost your best friend and my heart breaks for you.  Please dont feel bad about not being with him when he passed....Dogs seem to choose that time carefully.....you were with him his whole life and he was comfortable with that.  I wish there was something I could do to help..I'm here if you need.....

Love ya,

Sue

Dearest Barb,

Can't tell you how totally sorry we are to read about Baron. I know he was your very special friend....Cody (at the time) was our's.  When we lost Cody, I never thought I'd really get over it, but then along came Queenie, and you blessed me with her.  As you know, the special ones leave such big gaps in your heart it just seems like the ache won't go away....but it does somewhat.  Then  you start thinking about all the wonderful times yu had and how very fortunate you both were to have had one another.  Please, please know how badly we feel for you.  Thoughts and prayers.

Love, Bev

Aww...I am so sorry.  He seemed like a kind soul with the little interaction I had with him.

Funny though...my husband & I say frequently (he would know through the photos on your site)--sometimes Laney looks at us in a way & we say--she looks just like her dad like that.  We just said it over the weekend. Laney turned 1yr last Friday.

My sympathies to you.

Terri

Barb,

I understand what you are going though.  Do you remember my old Shot dog.  He was a puppy of my Heidi that I got from you along time ago.  Shot was with me for 18+ years.  He was probably my most loved dog.  Mostly because he was with me though all my bad times.  He slept by my bed and went everywhere with me.  We had the best trail rides together.  Worst of all I had to put him down one week after my father died. So I am sure you know I feel your pain.  Just remember they were borrowed gifts and they had to go home.

Judy

Barbara,

    I am so incredibly sad to read this. It is funny, but when I think of you, I think of Baron at the same time. You two were so close and were soul mates. He was a beauty, he was incredibly smart and he had such a sense of "you" above everything else. You depended on him and he on you.

   It seems like I have always known him........I am so very sorry, My thoughts are with you now and always.

Iris

Dear Barbara,

I just read this email and I am shocked and so very very sorry. It really is just such an awful thing to lose a dog, but to lose one that has made such a special connection with you and such an impact on your life is even worse.  I remember the very first time I saw Baron, when we met and I got to take home Monty, and it was clear from just that brief moment that he was not only an amazingly handsome and intelligent looking dog, but that you both had something special together.  I am so sorry for your loss, and I know nothing can really make it better, but I hope the memories and the time you had together keep you strong during this difficult period. 

All the best,

Tycie

Dear Barbara

I am so sorry to hear of your beloved Baron's passing.  He was an amazing dog and I know you will miss him dearly.  It is a true gift to have a companion so loyal, true and always there when you need them.  He was a lucky dog to have you as well, he was well loved and he returned it ten fold.  I hope the wonderful memories of Baron will bring you comfort in this sad time. 

With our sympathies,

Fondly,

The Daneshmands

Joe, Sharon, Rose, Lily and Willow 

Indeed, very sad news.  Baron was such a gentleman.  He will be remembered always as a very sweet soul. 

Hugs to you,

Sandi Ling

Dear Barb

   I was so sorry to hear about your loss of Baron.  I know how much he meant to you.  He was truly a great dog and your best friend.

Love Sally

I am truly sorry to hear about Baron.  He was a great Aussie.  After having just celebrated Bear's first Birthday this is sad news.  Be rest assured that Baron's blood line will go on and his special traits will prevail with Bear.  The children have totally loved him and are thankful that we found him when he did.  I know this is a very difficult time and our heart goes out to you.

Yours sincerely,

Lucy Wolfe

Barb I'm so sorry. Baron was truly a one of a kind dog. I refer to those special dog's as hart dog's.They share your hart and sole as do you share theirs.Have comfort in the fact that there are bit's of Baron all over from all the wonderful pup's he sired.

If you would like to talk some time please feel free to call me.

your friend's Mark&Tyler